MICROCESAR WINS PLANTWORX SECURITY INNOVATION AWARD
Datatag has won the Plantworx Security Innovation Award, for the second time, with their innovative new product, MicroCESAR.

The recently launched system, designed for small power tools, impressed the judges in a tough award category with a record number of entries. MicroCESAR was developed as a reaction to the growing issue of small tool theft in the construction, agricultural and landscaping markets and uses a combination of unique Datatag RFID transponder and tamper proof warning/registration label, with an integrated QR code. In this way each piece of equipment is given a unique 'fingerprint' that thieves will find virtually impossible to remove. Like CESAR, the official security and registration scheme for large construction and agricultural equipment, MicroCESAR acts as both a powerful deterrent against theft and an invaluable aid to recovery. It also provides the police with quick and easy verification of ownership without the need for special equipment or lengthy laboratory testing.

As a bonus MicroCESAR labels, each with a unique QR code, can also be used for stock management, helping companies track tools in and out of jobs. Scanning the QR code also provides users access to on-line health and safety advice and user manuals through the mobile enabled MicroCESAR website.

MicroCESAR was officially launched at the Executive Hire Show in February, where leading equipment manufacturer STIHL and utilities contractors Clancy Docwra announced their adoption of the Construction Equipment Association (CEA) backed scheme.

Datatag is now gearing up to exhibit at the UK's largest construction show, Plantworx, in June where both the CESAR and MicroCESAR systems will be displayed. This prestigious award comes at a special time for the CESAR Scheme as it celebrates its 10th birthday at the show where the 250,000th CESAR registered machine will be revealed on day one.

The award ceremony took place at the prestigious Carlton house terrace once the former residence of Prime Minister William Gladstone, situated in the heart of the capital overlooking St James Park, Whitehall and the Mall. On receiving the award Datatag MD Kevin Howells said, "I'm delighted to have won such a prestigious award and even more so for the second time! Datatag and the CEA is constantly working on new initiatives to help the industry and its' manufacturers and we're delighted that MicroCESAR is already being recognised as a positive extension to the main CESAR Scheme, fighting theft and aiding recoveries. The Datatag team is looking forward to exhibiting at Plantworx where we will celebrate CESAR's 10th birthday - and our 25th! - with our colleagues, our friends in the CEA, the many manufacturers using CESAR and Plantworx visitors."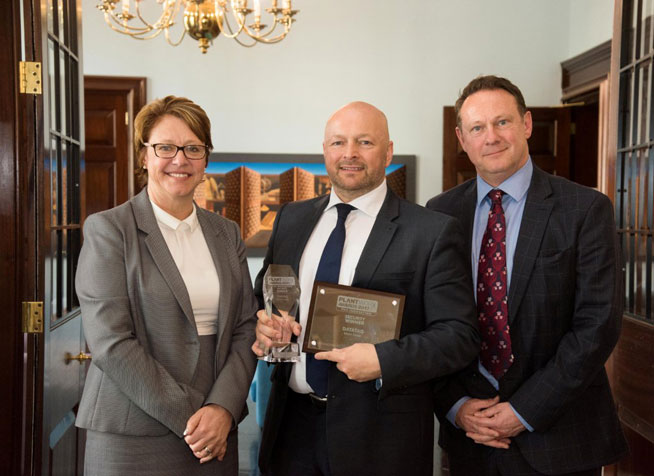 Date Created: 13/04/2017
The Construction & Agricultural Equipment Security and Registration Scheme