CPN SECURITY FEATURE - OPPORTUNITY MAKES A THIEF
As equipment has become more secure thieves have turned their attention to fuel theft from plant yards and construction sites. Fuel theft is estimated to cost businesses close to a billion pounds a year in the UK alone.

Datatag has taken up the challenge and come up with a solution called VENOM. Using their expertise in providing robust technological solutions, Datatag has developed a new, exclusive and unique forensic DNA identifier, mixed with an engine performance enhancer, which provides a unique answer to the issue of fuel theft. VENOM is designed to act as a power deterrent against theft, and as an aid to the police in identifying and tracing stolen fuel.

DatatagVENOM DNA can be formulated to give a company, site or an individual bowser a unique DNA profile, providing a level of security and traceability not seen before. This DNA is mixed in the fuel tank, dispensed from a convenient container before filling. The solution can be used in red diesel, DERY and petrol and can be detected by conducting a simple roadside test, allowing the police or security staff to identify where the fuel in a vehicle or machine is from.

Fuel Theft

Kevin Howells Datatag's Managing Director commented at the launch: "The issue of fuel theft is a billion pound headache for the UK haulage, construction and agriculture industries and causes untold additional costs in delays and environmental clean-up operations. VENOM incorporates all our know-how and allows companies to protect one of their most valuable assets simply and cost effectively. In our opinion this really will be a game changer in the fight against the fuel thieves."

Seumas Ascott, Group Security Manager at Murphy's, an ex-Met Police officer, added, "Fuel theft causes our industry a major headache. lt causes severe inconvenience and increases our operating costs. The associated costs arising from fuel theft often far outweigh the cost of the fuel stolen, and so anything which can help avoid these issues is to be welcomed."

Datatag VENOM will be available in commercial quantities from June this year and the company will be exhibiting at Plantworx to spread the word.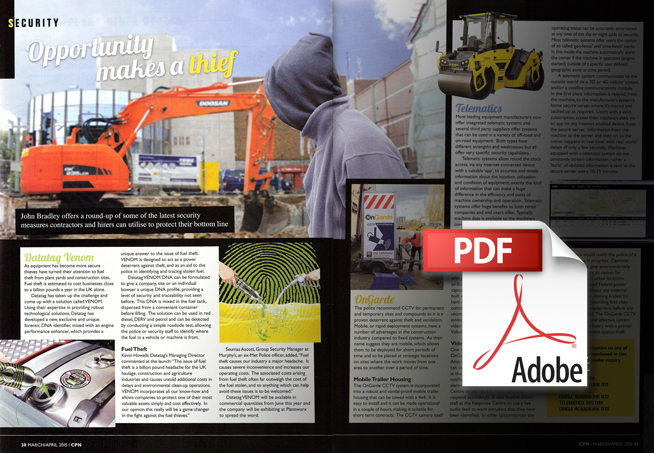 Date Created: 14/04/2015
Back to News